About
Snow-by-Night is a winter spirit on a quest to find her heart. Her path leads her to Sherbourg, a city built on the colonial frontier. She befriends Blaise and Jassart, a pair of thieves, who each have very different reasons for helping her. With their meddling, her quest does not go as she hoped, and she discovers that finding a heart is a greater challenge than she ever imagined.
Snow by Night is an ongoing graphic novel that updates pages three times a week. New Story pages are posted on Monday and Wednesday and an Almanac entry is posted on Friday. The Almanac provides additional information on the setting and people of the graphic novel.
---
Creators
Snow by Night may be the dream of one person, but it takes a small band of highly talented individuals to make that dream a reality. Please allow me to introduce the creators of Snow by Night.
Eric Menge
Author and Letterer
Eric Menge is an author, editor, game-designer, and intermittent attorney. He has designed adventures, written articles, and acted as a campaign administrator for Wizards of the Coast. Most recently, he co-authored Menzoberranzan: City of Intrigue, an award-nominated RPG supplement. He is also a writer for Legend of the Five Rings by AEG and writer and editor for Raging Swan Press. He has served as a telecommunications attorney for the U.S. Small Business Administration and then in private practice where he represented wireless telecom companies and broadcasters. Eric lives in Virginia with his linguistic wife Amy and his two daughters who are doing their best to ruin his productivity through sheer cuteness. He is currently creating an online graphic novel Snow-by-Night, a tale of colonial fantasy and dreams of muskets, alchemy, and snow in the moonlight.
Contact Eric at eric(at)snowbynight.com
Julie A. Wright
Artist for
Winter Fantasy
, the Spirits of the Seasons prints, and Penciler and Inker for Volume 3
Julie Wright is a a graduate from Columbus College of Art and Design and has been expanding her horizons as an artist since. She currently works with Lora Innes's "The Dreamer" as their primary colorist and has done other work such as "The Goblin Chronicles" for Skipper Martin and other freelance work. Julie enjoys to make unique interpretations of demons and other deities that are seen through out religious texts. Check out her web comic Ianua and her portfolio site.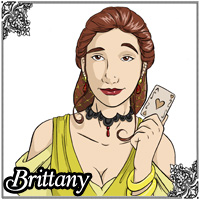 Brittany Michel
Penciler and Inker for Volumes 1 and 2
Brittany graduated in 2008 with a Master's degree in Sequential Art from the Savannah College of Art and Design. She grew up in Northern Virginia and enjoys beaches, walking on them, and poking washed-up jellyfish with sticks. On weekends in the fall she's usually dressed as a pirate and running amok at the Maryland Renaissance Festival. Any time she might have left over is taken up by sculpting, mythology, and making costumes and jewelry. Check out some of her other work on her Etsy and Patreon. And 42...it has all the answers.
Natalie Baaklini
Colorist, Artist for
Law of the Riverside
After a personal sabbatical following graduation from the Savannah College of Art and Design, Natalie is happy to be back into comics with Snow by Night. She's working on a few stories of her own that include: witches, shape shifting, reality bending, gender bending, swimming in creeks, sentient plant life, and flying. She would like to point out that these things are not part of the same story, because that would be silly. She hopes to start drawing these stories soon so they'll stop keeping her up at night and start keeping you up at night instead. If you want to see more of her work, she has a very neglected blog here: http://nataliebaaklini.blogspot.com/ which she may soon swap for a very neglected tumblr, because that's what all the cool kids are doing.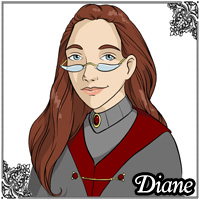 Diane Hazlett
Webmaster
Diane is a long-time Internet lurker with a memory best described as "a pile of loose Post-It notes that fall out of her head every time she sticks a new one in there." Despite that, she has a passion for learning and spends most of her free time reading articles, debates, or fiction of various genres.
Every weekend she attends one of many ongoing RPG campaigns, usually in the Dungeons & Dragons setting, which has captivated her interest since she first joined her father's 2e home campaign at age nine. Around the same time, her obsession with Pokemon led to a Neopets addiction, where she dove headfirst into HTML/CSS coding in order to craft sites for her beloved pixel friends, and has been teaching herself IT through trial and error ever since. Her idol and favorite storyteller is Watase Yuu, an internationally famous Japanese manga-ka, whom she dreams of someday meeting.
Contact Diane at webmaster(at)snowbynight.com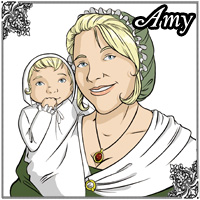 Amy Menge
Editor, Author of
Daughters of the King
For someone who likes to consider herself relaxed and easygoing, Amy Menge has spent a distressing amount of her professional life nit-picking other people's work. While keeping up a freelance German-to-English translation practice, she has dabbled in other careers such as software quality assurance, drug coding, and documentation review for metadata used in clinical trials. Amy likes visiting new places, cooking for people she loves, randomly bursting into song, Oxford commas, and watching her daughter discover the world.
↑ Return to Top
---
Contributors
Snow by Night also benefits from the talents of a number of contributing artists. Below is a brief introduction of each of our collaborators.
Ricky Bryant Jr.
Colorist for
Chapter 1
Ricky Bryant Jr. is a recent graduate of the Savannah College of Art and Design. He has a BFA in Computer Art and is currently finishing his MFA program in Sequential Art. He is a Washington, DC native who long ago came to terms with the fact that he is a grown man who still enjoys cartoons and comic books. When not at his "day job," he works as a freelance colorist, animator, storyboarder, character designer, and digital painter. His ultimate goal is to one day be able to do one or all of these things full time. Oh, and pay off his student loans. He really hates those.
Eric Schneider
Artist for
Feathers and Frost
Eric Schneider is a Maryland based artist specializing in illustration, sequential and concept art. Coming from a traditional art background including oils, acrylics and airbrush, he now works almost exclusively in the digital medium. Besides his illustrations for the Feathers and Frost vignette he also has multiple contributions to ImagineFX magazine, Bohemian Press, and others. Examples of his work can be found on Graphichive and his deviantart page.
D. Shazzbaa Bennett
Artist for
Daughters of the King
and Penciler & Inker for
Birds of a Feather
Shazzbaa is a D&D geek and cartoonist who seems to enjoy drawing far more than getting a decent amount of sleep. Upon graduating from the Savannah College of Art and Design like the cool kids are doing nowadays, she immediately leapt headfirst into the world of webcomics, where she has been responsible for the journal comic Today Nothing Happened and the fantasy comic Runewriters, as well as creating the art for other comics' side stories, such as Daughters of the King. You can find all her work on her website! She never knows what to say for these things!
Erin McManness
Artist for Snow by Night Character prints
Erin McManness is a freelance illustrator living and working in Atlanta, Georgia. Combining her love for character design, painting, and fashion illustration, Erin is pursuing her MFA in Illustration from the Savannah College of Art and Design. Originally trained as an oil painter, Erin received her BA in Studio Art in 2008, and has since worked in both fashion and illustration industries. A Baltimore native, she spends her days painting, designing jewelry, and drinking a lot of coffee. Be sure to visit her Portfolio site.
S.Y. Lee
Artist for
Losing by Winning
S.Y. Lee is a freelance illustrator from NY. Her webcomic, The Fabled Travelers, can be found here and her awesome online portfolio here. She also owns a pet fish named Scott Fishgerald.
Minuiko
Artist for
A Life So Free
Minuiko is a freelance illustrator who draws a lot of fanart in her free time. She enjoys YA novels and basically anything well-animated. She is currently working on getting into medical school and would eventually like to become a published graphic novelist once she gets more experience under her belt. You can follow her on Tumblr.
Steph Stober
Colorist for
Birds of a Feather
, Artist for the Roses of Alchemy Prints, and Snow by Night Website Design
Steph Stober is a freelance illustrator who never quite grew out of cartoons and comic books. Most of her time is spent drawing, spoiling her two rabbits (Caesar and Houdini), and generally geeking out about nerdy things on the internet. She is the creator of Final Arcanum and more of her work can be found at stephstober.me!
↑ Return to Top
---
FAQ
Q. Is this set in the real world?
The world of Snow by Night is inspired by the real world, but is not the same. There are several important differences, such as the spirits that walk among the mortal people and a science based off of the philosophy of alchemy.
Q. I submitted a comment in response to one of your pages. Why didn't my comment appear?
If you are a first-time commenter, the Snow by Night team has to approve your comment before it is posted. We do this to block the deluge of spam that we get through Wordpress. We'll try to get to your comment as quickly as possible. After you're approved, subsequent posts go up right away.
Q. Do any of you actually speak French?
The writer speaks terrible French, but the editor is fairly proficient. While striving to improve his French skills, the writer relies on the advice of two native speakers of French from Quebec City.
Q. Who's your artist?
Snow by Night is a collaborative work with a number of contributing artists. You can read all about them on our About page.
Q. Why is there French sprinkled in among the English in this comic?
The story is set in a fantasy version of French Canada. I'm sprinkling in the French to give it a stronger Quebecois feel.
↑ Return to Top